The Brewery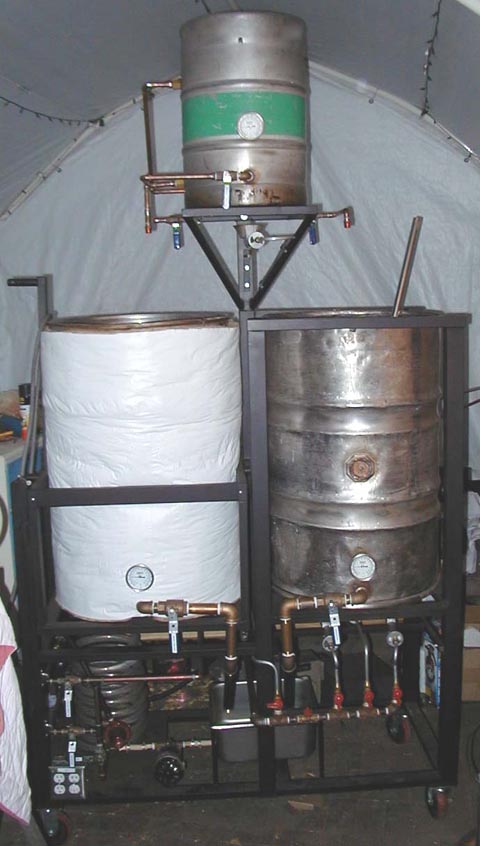 Well here it is after a year from conception to completion. Here's some of the specs and features :

45 Gallon Capacity (Confirmed 2/4/01 in our first full batch :-)
55 Gallon Boiler with 3 150K BTU Burners (450K BTU total)
55 Gallon Mash Tun (Insulated and not heated) on Hinged Cradle (for dumping)
15 Gallon Hot Liquor (Sparge) Tank with 150K BTU Burner
Integrated Recirculating Mash Heat Exchanger
5 GPM Magnetic Seal-less Drive Pump (250f max temp)
4 Gallon Pump Sump for Boiler and Mash Tun
Integrated Wort Chiller with Outlet Thermometer
Integrated Oxygen Injection via "The Stone"
Fully Plumbed in 1/2" Copper and 9 Ball Lock Valves
Boiler/Mash Tun Drainage via 1" Brass to Sump
Two Piece Frame stands approx 8' tall assembled
25 Gallon (100lb) Propane Tank and High Volume Regulator

Answers to some questions that have come up now with pics :-)
Other Pics :
Frame Assembly
Frame Side
Closeup of Lower Front(hi-res)
Upper Plumbing
Bare Frame
Misc Pieces
Pump
Early Assembly (hi-res)
Early Assembly w/LP Tank (hi-res)
Lower Plumbing w/Chiller (hi-res)
Lower Back w/Thermometer (hi-res)
Oxygen Injection (hi-res)
Burn Baby Burn (hi-res)
Hand operated mash stirrer (prototype)

About $2400 invested. Questions?

Beer Troubleshooting Guide

Live in Silicon Valley? Want to join a great club?


Last updated 03/02/02